First of all I have to give the guys from woopra two thumbs up.
I use webanalytics software for some years now. I worked with Indextools and like nearly everyone with Google Analytics.
As Indextools has been sold to Yahoo, Yahoo decided to change the business model of Indextools.
Indextools was not free of charge and hugh application for small sites. So Indextools is more a enterprise tracking system.
Google Analytics is free of charge. On big problem for commercial sites is that the collected data is owned by Google and the "terms and conditions" can be change quickly to use these data for their own needs.
Okay back to the main topic. A friend of mine told me about Woopra and I decided to sign up for the beta test. Woopra is free of charge right now. After the signup you'll have to wait until the guys from Woopra decided to give you access. In my case, this took two weeks.
After you're enabled for Woopra, you have to install a javascript in your website.
The cool thing behind Woopra is the Java application you can download from their page. Sadly you'll need java 1.6 which kicks out nearly all the Mac OS X guys, because Java 1.6 is only availible to 64bit users, which means only Mac Pro users are supported.
After installing the java application you have a wonderful, flash look-like, interface.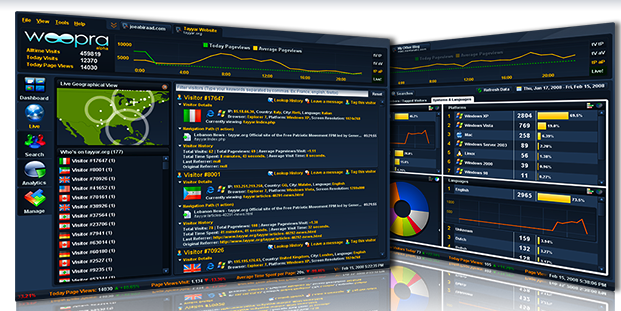 The best thing, you can see your users in real time. You can see, which site they are looking at, how long they have been there, where they came from (website and city/country) and a lot more.
The killer feature here is that woopra enables you to chat to current visitors on your website.
You can choose a user, click on "talk to this user" and get a chat window to talk to them.
At the end, Woopra is nice for small sites and blogs. I guess big business sites will not get the data they need and should use things like Indextools.
Btw. I think Woopra ROCKS!